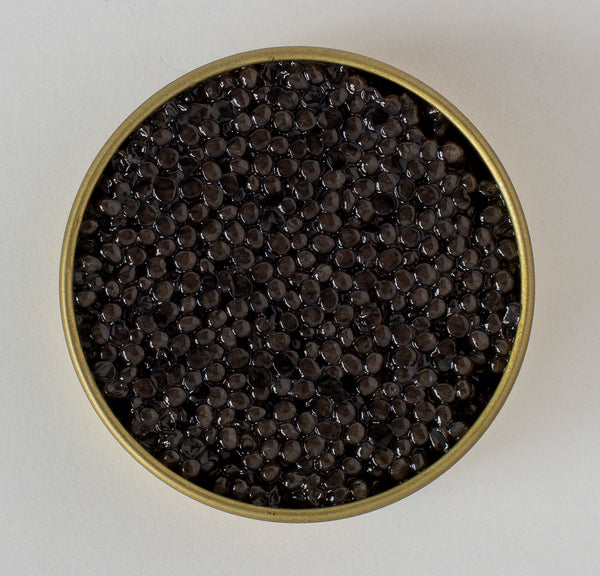 Incredibly bubbly treats that guarantee all the richness of gastronomic divinity that caviar lovers the world over desire. Our Beluga sturgeon is raised and processed organically in its homeland in the Caspian Sea. With a prehistoric breeding ground of nutrients and minerals, our Beluga is subtle yet full of a wealth of flavor and natural goodness.
Beluga Caviar from Iran offers impressive caviar grains in silver gray against onyx, which guarantee a taste experience you won't find anywhere else. If you're looking for a classic caviar that would have been experienced by the likes of Alexander the Great, Beluga caviar is for you.
PRODUCT INFO
Origin: Iran
Salinity: 3.5%
Grain size: Medium.
Color: From gray to onyx.
Taste: Milder buttery note with a hint of the earthy Caspian Sea.
Storage: Store in a refrigerator at 0°C to +4°C
Shelf life: 4-6 months in unopened packaging (opened can is eaten within 3 days)
---
INGREDIENTS
Sturgeon roe (Huso Huso), salt, preservative E285..
---
NUTRITIONAL CONTENT
Energy value: 1097 kJ/262 kcal
Fat: 18g (of which saturated substances 4.1g)
Carbohydrate: 4g (of which sugar, 0g)
Protein: 26g
Salt: 3,5g
---
RECIPE SUGGESTIONS
Fits well in e.g. appetizer, entree or main course — the possibilities are endless.
PRODUCT INFORMATION
DELIVERY INFORMATION
All our home deliveries are made in collaboration with our delivery partner Gordon, who is the industry leader in chilled and frozen deliveries.
At the checkout, you can easily choose the day and time when you want your home delivery.
Then Gordon will contact you via SMS with more information about your delivery.
On the day of delivery, when the driver has loaded and started the route, you will receive a second SMS where you can follow your delivery in the estimated time during the day.
When the driver is nearby, you will receive a third text message, and you can now follow the delivery on a map.

When the driver is at your place, a fourth SMS goes out and the delivery status is updated to "Delivered, Delivered outside or Unable to deliver". If the status is "Delivered Outside", you will be able to see a delivery image via the tracking link.

If for some reason an order could not be delivered, the driver will take it back to the warehouse where it is kept frozen overnight. After that, a new delivery is planned on the closest possible day.
100% CUSTOMER SATISFACTION GUARANTEE
We always provide a 30-day customer satisfaction guarantee. Should there be any problem with your delivery, you are always welcome to contact us and we will do everything to ensure that you are 100% satisfied
This is how you enjoy Kalix Löjrom in the best way
Check out the video with our purchasing manager Simon Nader and his brother Roy Nader, the well-known master chef and food profiler, who offers a real flounder feast with us at Vasafiskerian.
Bröderna Naders Löjromskalas at Vasafiskerian