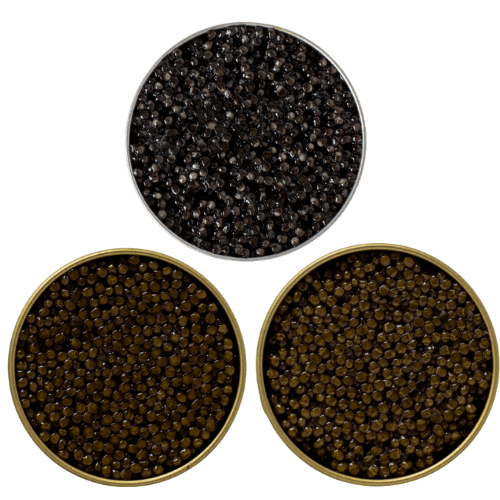 Experience the ultimate caviar experience with our exclusive Caviar Trio Deluxe Box. This luxurious box is filled with three of the world's finest caviar varieties: 30 grams of Baerii Royal, 30 grams of Huso Gold Imperial and 30 grams of Oscietra Imperial, as well as a package of delicious blinis. 

Baerii Imperial (30g): Baerii caviar is known for its mild taste and characteristic small grains. Our Baerii Imperial is carefully selected for its particularly buttery and nutty flavor profile. It has a seductive, smooth texture that melts in the mouth and leaves a long-lasting aftertaste of the elegance of the sea.

Huso Gold Imperial (30g): Huso Gold Imperial is one of the most exclusive caviars in the world. This caviar has an elegant and delicate flavor with an unparalleled richness of butteriness. The grains have a characteristic golden color and a creamy texture that appeals to even the most demanding caviar connoisseurs.

Oscietra Imperial (30g): Oscietra Imperial is a caviar with a remarkable flavor complexity. Its medium-sized, dark pearls have a rich and nutty flavor that develops layers of flavors in every bite. This caviar is known for its seductive, nutty and creamy texture, making it a true gourmet experience.

Bliner (1 package): To complete your caviar experience, our Kaviar Trio Deluxe Box also contains a pack of blinis. These small, fluffy pancakes are the perfect complement to let the flavor of the caviar flourish. Together they form a harmonious dance of flavors and textures.

This exclusive Kaviar Trio Deluxe Box is packaged with care and precision to ensure that every moment of your meal becomes an unforgettable gastronomic experience.
Whether it's a special party, a romantic dinner or a moment to treat yourself to the very best, our Caviar Trio Deluxe Box will take your taste adventure to a whole new level of elegance and enjoyment.
Welcome to the world of exceptional caviar!
PRODUCT INFORMATION
DELIVERY INFORMATION
All our home deliveries are made in collaboration with our delivery partner Gordon, who is the industry leader in chilled and frozen deliveries.
At the checkout, you can easily choose the day and time when you want your home delivery.
Then Gordon will contact you via SMS with more information about your delivery.
On the day of delivery, when the driver has loaded and started the route, you will receive a second SMS where you can follow your delivery in the estimated time during the day.
When the driver is nearby, you will receive a third text message, and you can now follow the delivery on a map.

When the driver is at your place, a fourth SMS goes out and the delivery status is updated to "Delivered, Delivered outside or Unable to deliver". If the status is "Delivered Outside", you will be able to see a delivery image via the tracking link.

If for some reason an order could not be delivered, the driver will take it back to the warehouse where it is kept frozen overnight. After that, a new delivery is planned on the closest possible day.
100% CUSTOMER SATISFACTION GUARANTEE
We always provide a 30-day customer satisfaction guarantee. If there is a problem with your delivery, you are always welcome to contact us and we will do everything to ensure that you are 100% satisfied
Let customers speak for us
This is how you enjoy Kalix Löjrom in the best way
Check out the video with our purchasing manager Simon Nader and his brother Roy Nader, the well-known master chef and food profiler, who offers a real flounder feast with us at Vasafiskerian.
Bröderna Naders Löjromskalas at Vasafiskerian