Brighten up Easter with the delicacies of the sea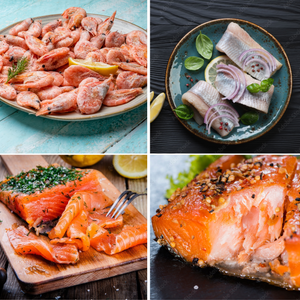 The Easter box, 3kg
Glitter the Easter table with the best from the sea. In our Easter box, you get everything from grilled and hot-smoked salmon to herring and prawns, plus some other goodies!
order now
The Easter box with luxury prawns, 5kg
Our extra large luxury prawns (40/60) are highly prized thanks to their rare firm flesh and bright pink colour. They are significantly larger than you normally find in stores and have a sweet taste with good saltiness. The consistency will be amazing!
ORDER NOW
Påsklådan with racks of lamb, 3.5kg
In our large Easter box, we have added racks of lamb to the delicacies of the sea. You get traditional delicacies from the sea and racks of lamb for the evening barbecue (if the spring weather permits!).
ORDER NOW
We are very satisfied with the quality of the salmon fillets we ordered from you. Very good herring inlays, the char was divinely good. We can really recommend you.
Anna Lena Bergström